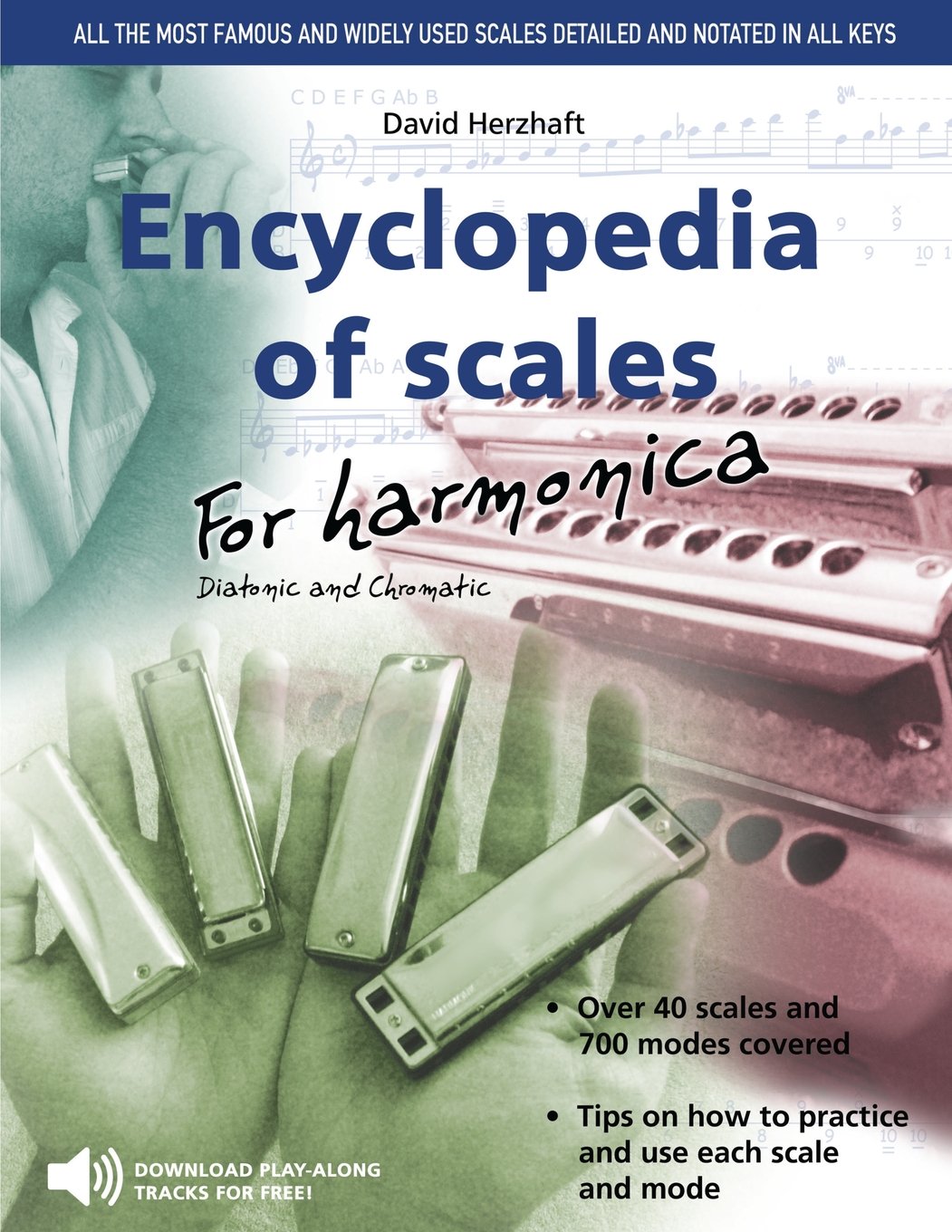 Encyclopedia of scales for Harmonica
Encyclopedia of scales aims at providing you with a very comprehensive collection of scales for the harmonica. Written on the whole instrument in all 12 keys in notation music and tabs this book provides an instant access to the precious harmonic content necessary to any player. Each scale is analyzed and comes with an explanation on how to use it, what modes compose the scale, on which chords to play the scale. Extra content is provided to give you the basics of using scales and create your own workout. List of the scales provided : Major, Melodic minor, Harmonic minor, Harmonic major, Double Harmonic minor and all of their modes. Pentatonic major and minor, Pentatonic blues (blues scale), Pentatonic minor 6 (or penta dominant), Pentatonic m7b5 Diminished or Half diminished, Whole Tone, Augmented, 9 Tone Augmented Bonus : 5 Bebop scales, 8 rare Extra pentatonics, 8 rare Extra scales Total of 142 diagrams, 142 scales
Exercises for Harmonica
Exercises For harmonica is the pratical element of the reference book Encyclopédia of scales for Harmonica. All the examples played on the DVD Encyclopedia of Scales are written down in music notation and tabs. 12 Pages of extra studies in all 12 keys are included to get you started and play in different keys on a single harmonica.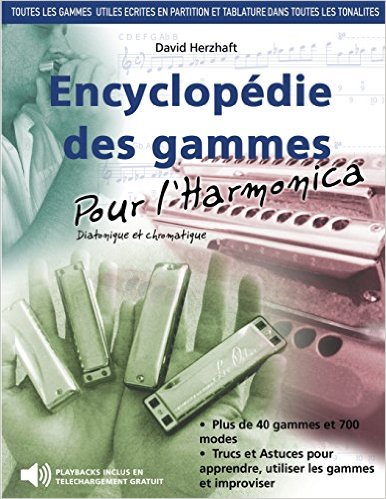 Encyclopédie des gammes pour l'harmonica
Encyclopédie des gammes pour l'harmonica est le livre de référence pour apprendre les gammes à l'harmonica diatonique ou chromatique. Ce livre de 88 pages comprend toutes les gammes les plus connues et largement utilisées mais aussi des gammes plus rares. Plus 40 gammes dans toutes les tonalités et un choix de 700 modes. Mais aussi des conseils sur comment travailler, apprendre et appliquer les gammes. Ce livre est également disponible dans un pack comprenant en plus 1 DVD longue durée et un livre d'exercice pour une experience encore plus poussée et pratique des gammes. Enfin vous pouvez télécharger les playbacks du dvd gratuitement afin de pratiquer vos gammes à l'harmonica.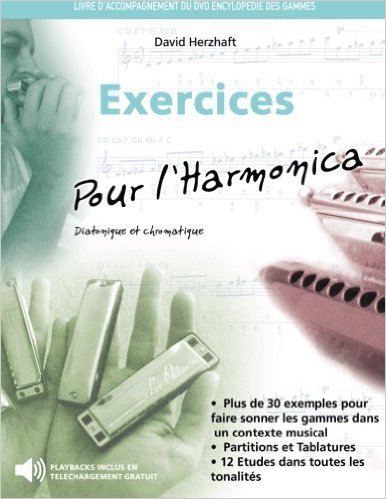 Exercices pour l'Harmonica (French Edition)
Exercices pour l'harmonica est le complément pratique du livre référence Encyclopédie des gammes pour l'Harmonica. Vous retrouverez ici tous les exemples joués sur le DVD Encyclopédie des gammes ainsi que 12 Etudes pour travailler dans toutes les tonalités. Les exercices pratiques vous donnent des exemples concrets pour appliquer les gammes ou leurs modes dans un contexte musical.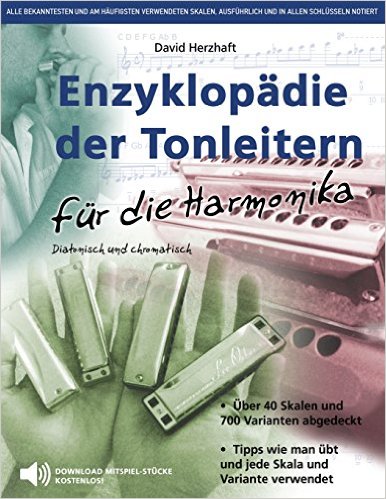 Enzyklopadie der Tonleitern fur die Harmonika (German Edition)
Die Enzyklopädie der Tonleitern vermittelt Ihnen eine umfassende Sammlung von Tonleitern für die diatonische und die chromatische Harmonika und einigen Extras obendrauf. Die Skalen sind in allen zwölf Grundtönen auf dem gesamten Instrument als Notation und Tabulatur beschrieben. Dieses Buch gibt Ihnen einen sofortigen Einblick zu dem wertvollen harmonischen Inhalt, der für jeden Musiker sehr wichtig ist. Jede Skala wird analysiert und Auskunft darüber wie man Sie benutzt, welche Modi sich daraus zusammensetzen und auf welchen Akkorden diese Skala gespielt werden kann. Die bereitgestellten Extras bieten Ihnen die Grundlagen um die Skalen zu benutzen und helfen Ihnen dabei Ihre eigenen Übungen zu erstellen.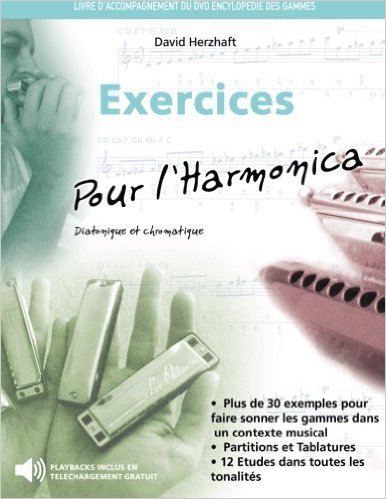 Enciclopedia de las Escalas para Armonica (Spanish Edition)
Out of Print–Limited Availability.
La Enciclopedia de las escalas tiene por objetivo proporcionarle una recopilación de escalas completa para armónica diatónica y cromática. Encontrará igualmente explicaciones pedagógicas, trucos e informaciones sobre la utilización de las escalas. Cada escala está escrita para armónica diatónica y cromática en las 12 tonalidades en partitura y tablatura. Esta obra le dará así acceso inmediato a un contenido muy preciado y necesario para todo armonicista. Cada escala se analiza y explica: construcción de la escala, los acordes derivados, los modos, en qué contexto utilizar la escala. Las explicaciones suplementarias le proporcionarán una rutina de trabajo para utilizar las escalas. Lista de las escalas incluídas: Mayor Menor melódica Menor armónica Mayor armónica Menor armónica doble y todos sus modos Mayor y menor pentatónica Pentatónica Blues (escala blues) Menor 6 Pentatónica (o Penta Dominante) m7b5 Pentatónica Disminuida o semi-disminuida Por tonos Aumentada Augmentada 9 notas ¡Hay un bonus! 5 escalas Bebop 8 escalas Pentatónicas raras, 8 escalas bonus raras = ¡142 esquemas y 142 escalas en total!